"I wanted to be able to offer my clients and horses the best possible chance of success. My plan to do this was to establish my own property whilst having the benefit of on course stabling. A 5 year plan came to fruition in 2020 with the purchase of a substantial equestrian property at Lakewood and the announcement of being the foundation trainer at Gifford Hill (Murray Bridge)." "I am now able to completely manage the careers of horses in my care from the moment they walk into my stable to begin their racing career until they are rehomed after racing."
Gifford Hill, Murray Bridge
In the past two years, Murray Bridge – 75 kilometres south-east of Adelaide – has become a new thoroughbred hub that is set to rival some of the biggest operations in the country. The opening of the Gifford Hill racecourse and training centre in 2019 heralded the dawn of a new era of racing in South Australia.
The spacious turf track has been met with rapturous feedback from the state's leading trainers and jockeys and the results of horses trained on the track speak for themselves. Specialty facilities at Gifford Hill include an 800-metre uphill sand track, opened late last year, and a 70-metre equine pool, which will be installed in 2021.
In December 2020, Racing SA announced that Michael would become the Murray Bridge Racing Club's foundation trainer, after being allocated the first 30 on-course stables. These are due to be completed in mid-2021.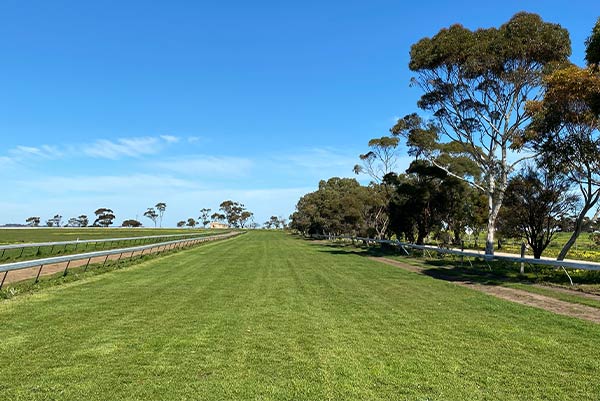 One of South Australia's most historic thoroughbred properties, Lakewood Stud, is now under the MHB banner having been acquired in 2020.
The farm, which once hosted successful stallions, is now a prominent training facility, featuring two training tracks – a 1600-metre grass track and a 1500-metre sand track – more than 50 boxes and irrigated spelling paddocks that can accommodate more than 70 horses.
The facilities continue to expand, too, with a walker and treadmill installed in recent months and plans with the Duncan Equine Group for an extra 30 irrigated day yards.
Between the Gifford Hill complex and the Lakewood Bloodstock operation, MHB is able to play a role in every facet of a horse's racing life, both in training and while spelling.
The stable's recent results speak for themselves – since taking up residence at Lakewood and having the flexibility to move horses between the two bases and vary their training regime during a racing campaign, Michael boasts a career-best strike rate and sits prominently on both the South Australian and Metropolitan Training Premierships.
MHB offers the best of both worlds – a boutique, hands-on operation with the benefits of state-of-the-art facilities at both Gifford Hill and Lakewood Stud.